Our noisy but lovable Shelties, Bonnie (left) and Reina (left, below), kept us and each other company for 17 years. Now they are both gone. Bonnie died Oct. 10, 2005 at the age of 15 years, five months. Reina was 11 when she passed away July 16, 2007. They were succeeded by Indie (right, below).
We remember a lot of good things about Bonnie.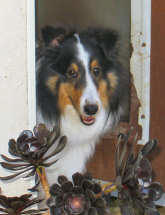 She was a devoted friend and companion who with this keen sense some animals have was able to empathize with us when we were down. She could "feel your pain," as a former president used to say. She also had a remarkable memory; she could remember the exact route of a walk last taken months earlier or people that she had not seen in years. Perhaps even toward the end she could recall better times when she was young and vibrant and eager to please.
When she was well into middle age, a man at a farmers' market was so struck by Bonnie's looks and demeanor that he offered $700 for her on the spot, but of course we weren't selling – for any price.
School kids that we often met on our walks were smitten with Bonnie – to many of them she was "Little Lassie" – and she basked in their affection.. And less than a week before she died, she was still accompanying John on half-mile walks.
Reina was a little older than Bonnie and a lot less expensive when we purchased her for a pittance at a Sheltie shelter outside San Diego.
In what sadly turned out to be the final year of her life Reina made the long drive with us in 2006
from Chula Vista to our new home in Portland. Perhaps due to mistreatment as a young pup, she was somewhat shier than Bonnie but just as loyal and affectionate.
On our daily walks, people would say how pretty Reina was and how full of life. Everyone seemed surprised when they learned her age. She enjoyed those outings and would literally jump for joy whenever John got her leash. In part because of her, John is in better shape. Those early morning strolls she took him on benefited him while allowing her to retain her youthful vigor until the tumor took over a couple of weeks before her death. She deserved a much longer life.